BNIX recently introduced IXP Manager, the most trusted management platform for internet exchange points worldwide.
IXP Manager was developed 14 years ago by INEX, the internet peering point for the island of Ireland, and is currently in use by 176 IXPs around the world.
IXP Manager allows IXPs to manage new customers, provision new connections and services and monitor traffic usage. IXP Manager also supports RPKI validation on the route server, whereas currently only IRRDB filtering is supported. And last but not least IXP Manager also offers a customer portal in which participants can monitor their port(s), check who their main peering partners are and better manage their port(s) usage.
Once logged in to BNIX IXP Manager, customers will get an overview of their total traffic on BNIX and will see the 5 most recent members who joined the BNIX platform.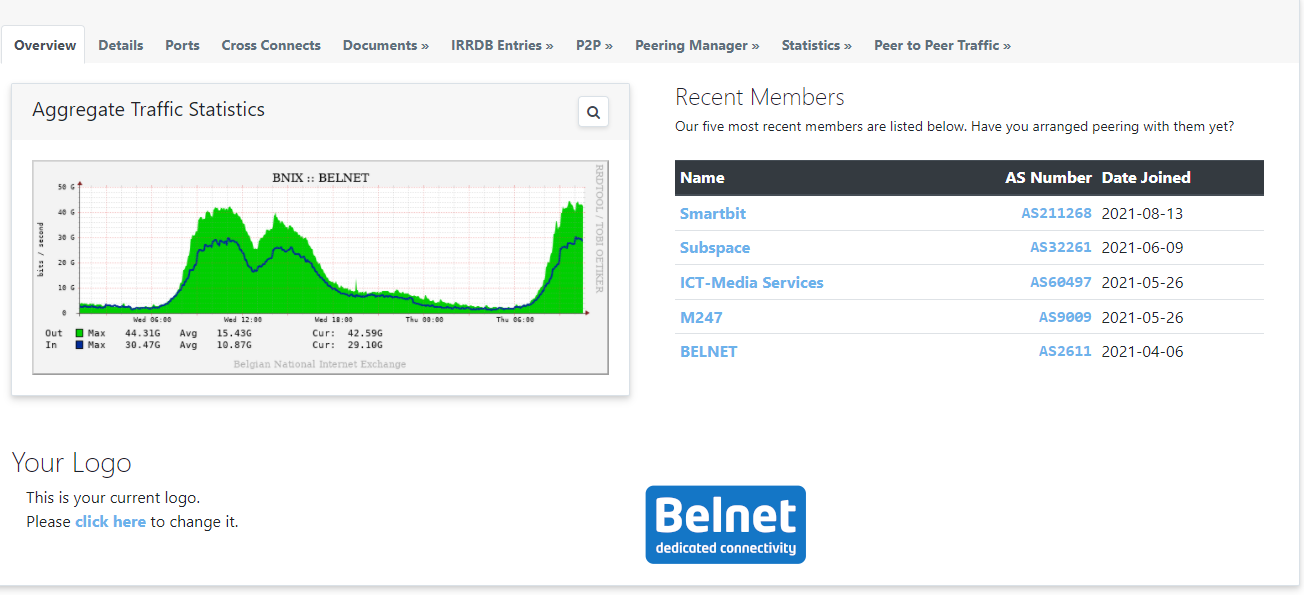 Peer-to-peer traffic graphs gives an overview of the amount of traffic that is exchanged with other participants. Customers can click on each participant to see detailed traffic graphs.
Peering Manager is a table that allows BNIX participants to track and request peering with other participants. The table displays information such as name, ASN, peering policy and protocol. Requests can be auto-generated and logged.
Statistics gives a more detailed view on the ports and gives access to Smokeping, a tool for monitoring latency/packet loss towards the BNIX infrastructure. As such it gives an indication of network health and can help identifying and diagnosing issues like a wrong router configuration.
IXP Manager also allows customers to update their NOC contact details, add new users, download documents such as contracts, etc.
Currently BNIX IXP Manager is made available in a beta version to a small group of participants. This way we want to obtain customer feedback and try to fix possible bugs before rolling it out to all the BNIX participants early 2022.
Did you find this news interesting?