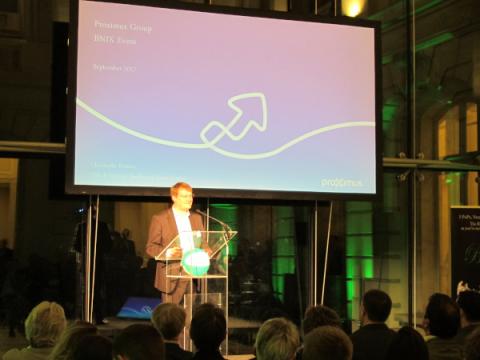 "From a technical perspective, your platform is stable and delivers the expected performance; but it is your commitment to maintaining good communication with your partners which makes you unique."

CHRISTOPHE PONSEN

,

DSL & Internet Network Domain Manager (BNIX) at Proximus
Proximus was one of the first members of BNIX. Find out why they chose to connect to the Belgian internet exchange point.
"Proximus is the only 100% Belgian ISP and telecoms operator which covers the entire country. It offers its high-quality services (landline, internet, TV and mobile phone connections) to individuals. Large companies, SMEs and business clients are welcome too. Proximus offers them not only the 4play services set out above but also (and especially) a bundle of specialist services adapted to their particular needs (e.g. rented lines, ICT consultancy, digital transformation support, IoT expertise, and much more)", explains Christophe Ponsen, who is in charge of the team that manages the Internet Backbone, as well as part of the access network (Xdsl & FTTH). 
What were Proximus's main reasons for connecting to the BNIX platform?
"It's difficult to remember", answers Christophe Ponsen. "We might be one of BNIX's oldest partners, either through Belgacom itself or through Skynet, before it was integrated into Belgacom. The main reason for joining the BNIX platform must have been the opportunity to connect with several local companies who were providing content for our clients at competitive rates on the transit market." 
What did access to BNIX change for Proximus?
Christophe Ponsen: "Easy access to a quality platform which, while increasing the quality of local connections, reduced operational elements by virtue of the platform being shared. With a single entry point, we also enjoy better connectivity with dozens of interesting partners, better than through Tier1 ISPs. And vice versa." 
What specific aspect of our service has made the biggest impression on you?
Christophe Ponsen: "Definitely your sales and support service, and how responsive it is. From a technical perspective, your platform is stable and delivers the expected performance; but it is your commitment to maintaining good communications with your partners which makes you unique. That goes for both technical and sales support. They are always ready to listen and often proactively get in touch with us, both for new services or incidents. The annual BNIX Networking Event is also something I never try to miss."
Would you like to add anything else?
"BNIX is an efficient exchange platform that is open to everyone. Everyone has the right to accept or refuse exchanges with other platform users. This flexibility on the part of BNIX is welcome. It does not create a minimum service obligation and allows everyone to create their own policy in a transparent way, even though some may end up disappointed as a result. Technical arguments do not always take precedence over governance rules. We have, unfortunately, had to turn down exchange requests, for which I am personally sorry. You have to remember that Proximus is, above all, an access supplier selling standalone internet solutions for individuals and businesses. We are not a company seeking to connect with everyone. Requests for exchanges must remain mutually profitable. That is what makes the BNIX platform possible", he concludes.